ALLMAX – AminoCuts
$34.99
AminoCuts is an ideal energy boosting drink full of aminos and diet-friendly ingredients like Caffeine, Taurine, C.L.A. and Green Coffee Extract that be used anytime!*
Description
Amino-Charged Energy Drink
An ideal combination of ingredients designed to provide energy for training while maintaining muscle mass, all the while supporting a fat burning diet.
Sugar-Free & Only 5 Calories!
4.2 g Amino Acids
Green Coffee Extract & C.L.A.
Natural-Source Caffeine
ENERGY to train, Amino's to maintain and diet support
AminoCuts could be the most delicious drink mix we've ever made. Perfect to enjoy anytime; easy-to-mix, full of Aminos and loaded with diet-friendly ingredients like natural-source Caffeine (125 mg). Taurine, C.L.A. and Green Coffee extract – AminoCuts is ideal anytime you need an energy boost!
A Quick & Delicious Choice
On your way to do some cardio? Need a mid-afternoon "pick-me-up"? AminoCuts is designed to fit your life and your diet and is available in 2 mouth-watering flavors!
100% Clean Label Protocol
With ALLMAX® products, you know what you're getting. We don't hide behind proprietary blends. Every ingredient is individually listed with a precise mg measurement. The Clean Label Protocol holds us to a higher standard. You can be sure you are getting the highest quality.
THE POWER OF TAURINE
A:CUTS provides you with energy to burn! Fortified with Natural-Source Caffeine, Green Coffee extract and CLA, A:CUTS will supercharge your workout with the added benefit of focused fat loss.
What's even better is the addition of 2000mg of Taurine, a non-essential amino acid, and one of the most abundant amino acids in the body that can be found in the central nervous system, white blood cells, the brain and skeletal muscles.
Taurine aids in the metabolization of fat, and is also known to improve insulin sensitivity and boost your mood! It can help improve exercise performance and body composition. Taurine acts as a metabolic transmitter and is important for brain metabolism. It stabilizes the heartbeat as it is an inhibitory neurotransmitter, which helps to improve focus during training.
*Manufacturer Information
Additional information
| | |
| --- | --- |
| Flavour | Pina Colada, Goji Berry Martini |
| Size | 210 g/30 servings per container |
Nutritional Information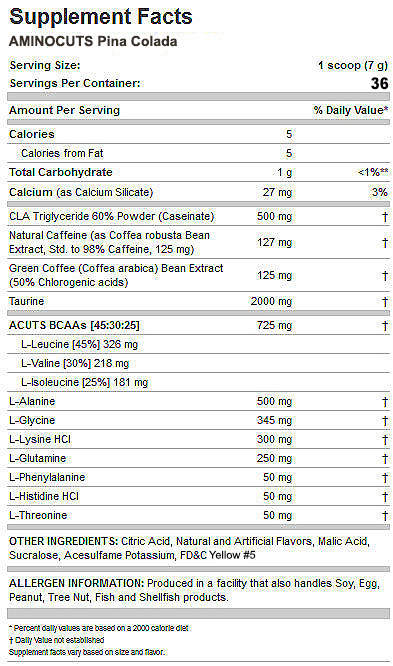 Note: Ingredients and values may be slightly different depending on flavour and container size.
*Manufacturer Information